Set to become one of South Africa's leading music festival events, the 5FM Music Festival will hit the seaside town of Jeffrey's Bay for three days of musical mayhem for July 2012. Teaming up with Billabong and Nissan Juke, 5FM, the radio station withh provide the musocal accompaniment to Billabong Pro Jbay 2012 – 144 local and international surfers battling it out at legendary surf spot, Supertubes.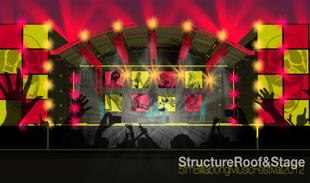 The night will belong to the music...
With more than R1m invested in the line-up of almost 50 artists, the show will include SA favourites such as Prime Circle, Ard Matthews, Taxi Violence, PH Phat, Jack Parrow, Flash Republic, 3rd World Spectator and Crash Car Burn. Also appearing are Hard Fi, who headlined at the Glastonbury Festival last year and recently played to a capacity crowd at Wembley stadium in London, as well as UK guitarist Neil Taylor who played with Tears for Fears in the 1980s and more recently with Robbie Williams.
The sound, stage, lighting and production of the 5FM music festival design has been put together by Gearhouse SA's Philip Chames and Ryan Shepherd, and will include a 38m-wide main stage with 6m wide by 14m high PA wings. Thirty-two Turbosound Flashlight boxes make up the rig on the main stage, boosted by 12 Floodlight subs.
A separate DJ Electro Stage will create the illusion of a freestanding cube balanced on its apex and will generate loads of eye candy with projectors transforming the 5m x 5m front surface into a moving landscape of projection and lighting to 'float' the stage while the DJ operates from within the centre. Here, a L-Acoustics dV-Dosc System with four Turbosound subs either side of the Electro Stage will deliver more than the requisite level and clarity.
The festival will also offer live dance arenas, with Ministry of Sound taking control of the dancefloor on Saturday night, bringing some of the hottest tracks on the planet to Jbay.
'We are really excited to be mounting something like this in Jeffreys Bay,' says Ryan Shepherd. 'We don't often get the opportunity to deliver something really extraordinary for the festival goers in this part of the world and we intend to make the most of it.'
More: www.5fm.co.za
More: www.gearhouse.co.za