Klotz Cables has completed the construction of a new high-bay and production warehouse in Germany, which will serve the growing demand for the company's products and allow its just-in-time delivery capability to be streamlined.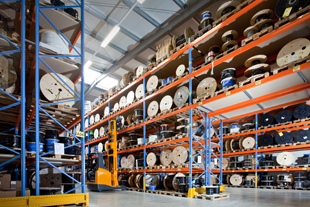 The facility will optimise all aspects of the goods movement process, being based around a dynamic storage system and route optimisation that shortens routes between process steps.
The build was finished 'in record time' after just four months' work, and is will significantly increased the company's production and storage capacity. Combined with a new inventory control system, it will allow the company to respond more effectively and rapidly to delivery enquiries, and handle periods of very high demand. It will also improve its ability to serve large-scale orders and meet tight delivery schedules.
In addition, the new system guarantees transparency with respect to stock as required under ISO 9001:2008 certification, enabling customers to receive rapid and accurate information on available goods and their dispatch processing times.
The use of highly efficient storage and management mirrors that of Neutrik in Liechtenstein, in offsetting relatively high real estate and labour costs to allow the companies to retain a European centre of operation.
More: www.klotz-ais.com