VMB has agreed exclusive distribution with ESL for all its lines in France. The company will also be the official service centre for all VMB lifts.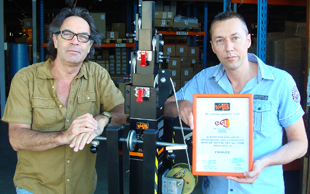 'This is a great opportunity for ESL to extend our range with the addition of high-quality VMB products,' says ESL Purchasing Manager, Yann Koziol. 'The value for money is also very interesting with the VMB range and the product is already very well received in the market.'
'ESL's reputation in the French market is well established and it was an obvious choice to hand them the distribution of VMB,' says VMB Export Manager, Ben Sinclair. 'We have always had a strong presence in France and I am sure that ESL will only strengthen that presence even further. ESL has a great portfolio of brands and I am really pleased that the company has added VMB to that portfolio.'
'That the partnership between VMB and ESL is an exciting challenge and completes our strategy of distribution of quality products,' adds Alain Cornevaux, President of the Spanish manufacturer of towerlifts.
More: www.esl-france.com
More: www.prolifts.es