Lake has struck an agreement with AFMG to develop SysTune measurement integration into the Lake Controller platform for live sound production.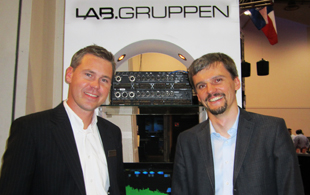 Under the stewardship of Lab.gruppen and with a prototype already in testing, this new level of cooperation between the two companies marks the beginning of new developments for end-users, with integration of Lake's processing platform and SysTune's measurement capabilities.
SysTune is real-time measurement software that provides features including spectrogram, transfer function, real-time IR, Virtual EQ, SPL/LEQ and SSA filter for high noise immunity. The latest update adds with an automatic delay alignment function and support for mobile devices.
'Having the measurements from SysTune as an integration into Lake Contoller will give more flexibility and freedom of choice in order to achieve the ultimate system tuning solution,' says Martin Andersson, Product Manager – Touring, for Lab.gruppen and Lake. 'This kind of engagement with AFMG helps reinforce Lake's position as a leader in live sound digital audio processing, and I look forward to seeing the integration take place.'
'SysTune has been available since 2008 and has quickly found a strongly growing user base worldwide,' adds Stefan Feistel, Product Manager at AFMG. 'Integration between measurement packages and DSP control software is the logical thing to do. AFMG is very happy about this continued cooperation with Lake. Thanks to Lab.gruppen's fast and dedicated support SysTune users will soon benefit from the new features.'
Innovation-driven cooperation between AFMG and Lake dates back to the 1990s, where AFMG and Lake implemented the first PC-based, real-time auralisation in Ease, the industry standard for sound system modeling.
With SysTune integration already undergoing testing in the field over the summer festival season, an announcement regarding a full release for end-users is expected in late 2012.
More: www.lakeprocessing.com
More: http://systune.afmg.eu