Gadget Factory's RetroCade project 'is about taking classic synth chips and putting them in the hands of musicians and hackers alike,' states self-taught electronics hacker and Open Source Hardware designer, Jack Gassett.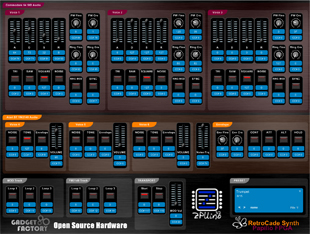 Following the trail blazed by the Arduino board (that was at the heart of Fast-and-Wide's recent blog on hard hacking), the RetroCade Synth uses the ZPUino Soft Processor to allow classic audio chips to be controlled by simple, easy-to-hack Arduino compatible sketches. RetroCade users can make quick changes to the ZPUino sketch in order to modify Control Changes, load YM or MOD files, or modify how it operates.
The RetroCade Synth is an Open Source project with the ability to concurrently play built-in Commodore 64 SID and Yamaha YM-2149 chips, as well as .mod files, and Midi files. It can also be played via any external Midi control interface or via audio/sequencing software. A custom VST software dashboard gives visual control over all parameters.
The card uses is a combination of the Papilio FPGA, the RetroCade MegaWing, and a control dashboard that runs on a computer. Access to the Xilinx Spartan FPGA (Spartan 3E 500K or Spartan 6 LX9) is provided by a high-speed USB port for programming and communication.
See also:
Hard Hacking: Putting Homebuild Back into Audio (Fast-and-Wide blog)
RetroCade Synth documentation (pdf)