The recent investiture of the 14th Yang di-Pertuan Agong took place at the new Istana Negara (royal palace) in Kuala Lumpur. The event was followed by a formal banquet at the Malaysia New National Palace in Jalan Duta, attended by various diginitaries, foreign ambassadors and senior government officials. Also present was a Studer Vista 5 M2, supplied by Mahajak Trio, which recorded the occasion for broadcast.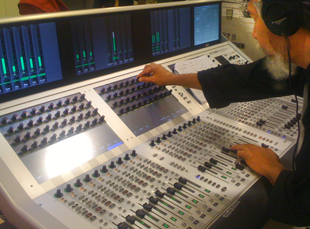 The broadcast programme – wich required a total of 32 microphone channels – was aired on Radio Televisyen Malaysia (RTM). 'The Vista 5 M2 enabled the sound engineers to implement fast copy-paste of all the parameters while the Vistonics interface provided immediate access to parameters by opening up settings onto the encoder, such as EQ, dynamic, VCA and channel setting, without wasting time searching for any hidden buttons,' reports Mahajak Trio Senior Manager for Sales & Projects, Lee Chin Kah.
Another key feature of the console that was used to mix the event was Master Contributions, enabling the sound team to view and control all the contributions on Vistonics faders. In addition, Lee highlighted the instant recognition provided by the console's use of colour and icons for different control parameters. 'The desk is extremely intuitive and easy to learn within a second,' he says. 'This allows the user to focus on the creativity of his work.'
The cues were used to upmix the stereo transmitted signal to a 5.1 channel signal, and the professional broadcast contributed substantially to the event's success.
The appointment of Tuanku Abdul Halim Mu'azam Shah succeeded that of Sultan Mizan Zainal Abidin of Terengganu, whose five-year term as the Yang di-Pertuan Agong had ended.
More: www.studer.ch