A newly installed SSL Matrix console has welcomed analgue signal handling to Portugal's Replay Studios.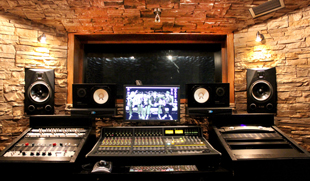 A full-service recording, mixing, and mastering facility serving a variety of clients in music post and multimedia production in Santa Maria De Feira, the studio also calls on on a range of SSL equipment in other areas of its production.
'Taking the plunge into the analogue domain was a huge step for us,' says co-owner Mário de Sá. 'We mixed a project on an AWS, and the improvement was astounding in terms of soundscape, cohesion, and fullness. We decided that our love of music and joy while working with music was much improved, so, after much debate and research, the SSL Matrix was the choice for the hub of our studio, enabling us to improve on every single aspect of our workflow and musical results. We could approach the purchase of other outboard with certainty that it would seamlessly integrate into our workflow with ease.'
Replay Studios is co owned by musician/producer/engineers de Sá and Miguel Barros. The Matrix installation represents the last step in a three-year facility upgrade, that includes adding SSL project studio products to every area of production. The journey began soon after the studio was opened in 2009 with an Alpha VHD Pre: 'We decided to enhance our pre-amp choices with its tone-shaping potential and our desire to achieve "that sound" we had in our heads for modern rock and pop productions,' de Sá says.
A cost-conscious start necessitated a software-centric approach at first – but here, too, SSL plyayed its part: 'We decided on Duende plug-ins, which helped us understand how the basic tools of the mixing engineer should interact. SSL are the mix masters, and the plug-in package enabled us to tackle entire mixes almost exclusively with Duende. Even though we were in the box it gave us cohesion; we particularly loved the Vocalstrip for its saturation capabilities on everything in the mix. All the plug-ins in tandem helped us understand the philosophy behind SSL's analogue workflow.'
When the time came to move further into the analogue domain with an X-Rack, Barros and de Sá were ready: 'Seeing as though the Stereo Bus Compressor, Stereo EQ, and Stereo Dynamics are all part and parcel of the system, we decided to load an X-Rack with all those modules to have a totally analogue path for the main elements in the mix, with the rest still being processed by the Duende suite,' stated Mário. 'Our goal is to gradually expand upon the X-Rack system as our needs require. After going analogue, it's hard to go back to digital.'
The Replay team also chose to take the SSL I/O path to bridge the gap between analogue and DAW domains, with a MadiXtreme & Alpha-Link I/O system. 'The Matrix's open architecture means we can approach almost all production tasks from an angle best suited to meet the needs of our clients,' concludes de Sá. 'We love it. Life's good and music is better.'
More: www.replaystudios.net
More: www.solidstatelogic.com