Completely destroyed in a fire in 2011, the Calvary Apostolic Church in Hampden, Maine took up residence in a semi-temporary building. Knowing that it will eventually return to a permanent home, its selection of sound system required advance planning…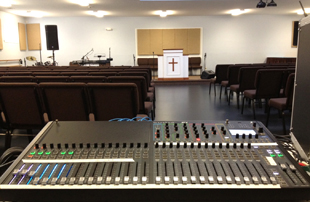 'We needed something that was compact enough to be portable and also extremely easy to use, but could be integrated into the new facility once it's complete,' explains Jason Mathews, Owner of Sound Media Concepts who handled the church sound.
The solution was a Soundcraft Si Compact 32 mixing desk and JBL Professional PRX portable PA loudspeakers for weekly Sunday services and mid-week Bible study sessions.
'Ever since I demoed the Si3 when it was introduced, I fell in love with Soundcraft and the Si series. It is extremely user-friendly and the fact that Soundcraft now has an affordable compact digital console of this quality allows smaller congregations the opportunity to take advantage of the latest technology with the breathing room expand in the future.
'The Si Compact will give the church plenty of flexibility when it is time to move to the permanent building.'
The ease of use of the Si Compact is another advantage for this small but growing church, as most of the time the operators are volunteers: 'The sound is amazing,' Mathews says. 'The Lexicon processors sound great, you really get a lot of quality software in the console for such a great price. The preamps and processing are smooth and don't fight against you at all.'
The ability of the Si Compact to save the settings after each use has made life easier as different volunteers use the board each week: 'The console allows for flexibility and to re-patch everything internally,' Mathews says. 'It's great that there is no need to mess around with other gear and all we need is the console, an analogue snake and speakers and we're good to go.' This allows the church to change the console layout if needed without having to worry about connection or cable issues.
'One of the great aspects of the system is that we coupled Soundcraft with JBL,' Mathews adds. For audio reinforcement, the Church uses a pair of JBL PRX635 powered loudspeakers along with a pair of PRX618S-XLF subwoofers. For monitors, three PRX612M loudspeakers are being used as well.
The PRX635s have just blown me away. The mid and highs are so smooth and I'm surprised at the low distortion. Outside of their great sound, I was attracted to the PRX line because they are designed to be portable but also have rigging points and can be permanently installed in the new facility. I'd put them up against anything else on the market.'
'It's as if the Si Compact and JBL loudspeakers were designed for Calvary Apostolic Church's modern worship style.'