Iran's JAM Petrochemical Company has chosen a Danish Interpretation Systems DCS 6000 Conference System for corporate functions.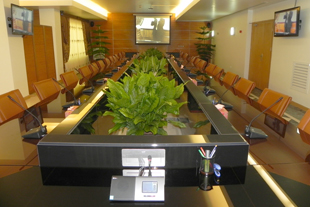 The sinstallation was handled by Cimatech Samaneyeh Aria – the exclusive distributor for products of Danish Interpretation Systems (DIS) in Iran – an places26 model DC 6190P delegate units plus two DC 6990P touchscreen units with two Sony EVI-D70 cameras for video tracking and an Electro-Voice sound system in the company's board room.
The JAM Petrochemical Company is the largest manufacturer of Olefin (a long-chain polymer synthetic fibre, also known as polypropylene or polyethylene) in the world.
'Our customer chose a digital conference system from DIS after a long search for the best conferencing brand,' reports Amir Kord, Managing Director of Cimatech.
More: cimatech.biz
More: www.dis.cc