A luxury yacht took to the water in Texas recently with more than 50kW of Powersoft K Series amplification onboard – and installed. The 61-ft Sea Ray 610 Sundancer yacht, owned by Lance Crosby, chairman/CEO of SoftLayer, sports a total of 47 loudspeakers including a giant subwoofer, and generates a sound pressure level equivalent to a rock concert.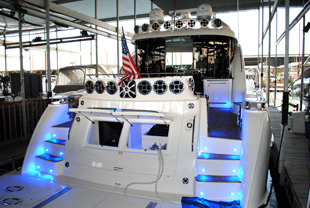 Gemini Light Sound & Video supplied the amplifiers, which are fitted with optional DSP cards. The installation includes nine two-channel K2 models (2 x 2.6W into 2Ω) and a single K6 ( 2 x 3.6kW into 2Ω), all running off of 240V AC. The ten amplifiers in total draw just 24A.
Chris Taylor, owner of Custom Audio & Video by Chris, designed the boat's audio system, which was then fitted by a team managed by lead installer, Chris Smart. The company – a specialist in audio installations in the home, office, car, boat and RV – took less than three months to complete the project, which not only required the fabrication and fitting of custom fiberglass housings and speaker enclosures but also the installation of an additional 13.5kW Onan generator solely to power the audio equipment.
The Powersoft amplifiers provide power to 34 AudioFormz 10-inch Eminence horn-loaded compression drivers and 12 Kicker Solo-Baric L7 subwoofers mounted around the boat's bridge, upper deck and stern. A single MTX Audio JackHammer subwoofer, which includes a 6.5-inch voice coil, a magnet that weighs over 56 pounds and can handle 4kW RMS, is mounted in the stern above the swim deck.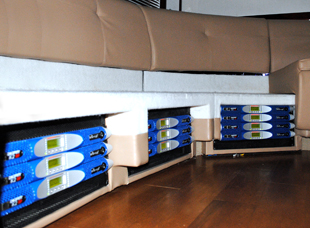 A variety of sound sources are available, including a Sony DSX-310BTX digital media receiver and a Mac Mini computer. The system can also access the internet and accepts any Bluetooth audio input.
According to Chad Cain, system tech at Gemini, a major rental, sales and installation provider of sound, lighting and video equipment, Taylor first saw the Powersoft amps at an open house and was impressed by their efficiency and compact size: 'The power coming from the K2s also matched up quite well with what the components needed to be driven with.'
The Gemini team used Powersoft's onboard processing in conjunction with Rational Acoustics' Smaart analysis software to optimise the speaker system. 'At full tilt, we're just tickling the amps – it's got so much headroom and gain available it's unreal,' Cain says. 'It sounds like a pair of stereo headphones when you're sitting in the boat.'
And with the system cranked up, 'it literally sounds like a concert on the water. We measured the sound pressure level behind the boat and it was hitting 115dB(A) at about 40 feet back.'
More: www.powersoft-audio.com
More: www.geminilightsoundvideo.com