In a modern university facility – especially one with a strong research focus – the ability to hear what is being said during lectures is of paramount importance. Many modern buildings favour design, aterials and aesthetics over acoustics, however…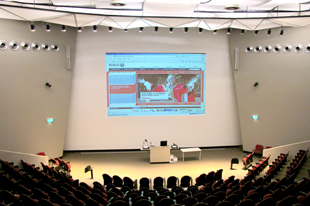 Australia's University of Wollongong flagship lecture theatre is one such venue. A long-standing problem resulting from an inadequate sound system presented problems with intelligibility and prompted complaints from students and lecturers alike. The layout of lecture theatre, with steep sloping banks of seating, broken by wooden panels and surrounded by highly reverberant surfaces meant that the sound being projected was leading to high reverb times, and as such students were finding it difficult to follow the lecture and getting different results depending on where they were sitting in the hall.
The university called upon audio expert David Allara, the National Audio Visual Manager at CARDNO ITC Consultants, to help find a solution. Allara brought in local Tannoy Professional distributor Audio Products Group to provide preliminary modelling of the theatre using Tannoy's Beam Engine software. When the University was shown what could be achieved with a single pair of loudspeakers, a demonstration was arranged.
'As well as intelligibility, the university was also keen for any new solution to be unobtrusive and aesthetically pleasing at the same time,' Allara says. 'QFlex was selected due to its ability to provide even audio coverage from a single pair of speakers without the use of delays, but because of their design they also provided minimal architectural impact on the theatre.'
QFlex uses advanced beam-steering to give precise control over the throw of the loudspeaker. Sound can be focused on the seats and away from the ceiling, walls and partitions, reducing reverberation times without the need for acoustic treatment.
The proof of concept demonstration was undertaken in conjunction with local contractors, Sturman Electronics, using a single QFlex 32. During the demo, everyone was immediately impressed with the remarkably even coverage achieved throughout the theatre, especially given the 540 seat capacity and steeply raked seating. After a relatively swift and easy installation, just two QFlex 32s, mounted high and almost out of sight, was enough to alleviate any of the acoustic problems the lecture theatre had suffered from previously.
'Since the new QFlex system has been installed the complaints about not being able to hear the lecture have stopped,' Allara reports. 'This kind of silence is golden for the full time A/V team at the University, because it means the new audio system is doing exactly what it is supposed to do – deliver clear and natural sounding speech and music to all 540 seats and they can spend their valuable time elsewhere without having to worry about the audio system in the flagship lecture theatre.'
Established in 1951 as a Division of the New South Wales University of Technology in Wollongong, the facility was incorporated by the New South Wales Parliament as an independent institution of higher learning in 1975. In the intervening years, it has grown from a provincial feeder college with 300 students to an international university with over 26,000 students spread across three campuses and five access centres.
More: www.tannoy.com
More: www.itcfm.com
More: www.audioproducts.com.au
More: www.sturmans.com.au