Professional Audio Technology has been appointed exclusive sales and support partner for DirectOut Technologies (D.O.Tec) in Australia.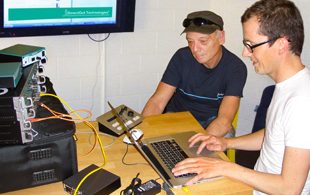 Professional Audio Technology MD Patrick Salloch welcomed the partnership:
'The PAT team is looking forward to providing DirectOut Technologies to our customers in Australia. D.O.Tec products have a great synergy with our product range and our customers are already benefiting from the fact that these products are now available via PAT.'
Broadcasters who have already adopted DirectOut Technologies products in the short time PAT has been the exclusive distributor include Global Television and SBS – Special Broadcast Services.
'The D.O.Tec product range provides our clients and PAT with products which we were missing in our product range,' says PAT Technology Specialist, Alan Liddelow. 'We are not only impressed with the build quality and the ease of use, but it is the very affordable price which will make DirectOut Technologies a household name in every broadcast facility in Australia.'
'As a fairly young brand in the broadcast and pro audio market, DirectOut is currently in the process of establishing a distribution network worldwide,' says Stephan Flock, CTO of DirectOut. 'We feel that is is imperative to work with distribution partners who, on the one hand have close ties in the broadcast and pro audio industry and share our company philosophy, and on the other hand also possess the technical expertise to provide our products as technical solutions. PAT understood our products and philosophy from the word go, and has already managed in record time to establish a presence and include our products in various exciting projects. We are happy about this successful partnership and are looking forward to a prosperous cooperation between Patrick Salloch and his team.'
DirectOut Technologies products have been added to the PAT website and stock has already arrived in Australia.
More: www.proaudiotechnology.com.au
More: www.directout.eu