Scottish sound equipment hire company The Warehouse has become the first UK rental company to stock the new Axient Wireless Management System from Shure and to be certified as a trained Axient dealer.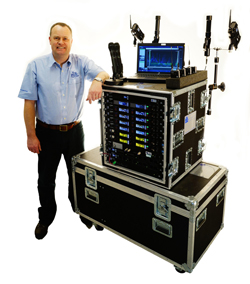 Axient is Shure's latest generation of wireless systems', and offers the latest in wireless microphone technology, as well as 'new-to-the-world features', including the ability to detect RF interference and automatically select another, interference-free operational frequency.
Axient systems began shipping around the world in early 2012; however, companies offering the system have to be trained in its use before they can offer it for hire or sale, and the first UK-based outlets have only obtained their Axient certification in recent weeks. Of these, Glasgow and Edinburgh's The Warehouse is the first hire company to receive stock and begin renting it out.
'The training and certification process for Axient is very important to Shure,' explains Tuomo Tolonen, Shure UK Applications & Product Planning Manager. 'Axient is a huge leap in wireless microphone technology, and as such, we want to ensure that anyone who owns Axient is fully competent in the set-up, operation and troubleshooting of the system. The certification is an intensive two-day course, with just two to three people per Axient rack; this allows the participants to get their hands on the equipment and understand every last detail of the system.'
'We've always preferred Shure systems – we've been using Premier Series systems for about 15 years,' says The Warehouse Sales Director, Derek Blair. 'Axient is now the most technologically advanced wireless mic system on the market, and we're delighted to be the first UK hire company to carry it – as a wireless system, it's streets ahead of what everybody else has to offer.'
As of early May, The Warehouse has booked Axient systems out on several projects for high-profile broadcast clients.
Further Axient certifications are taking place every month: 'The Warehouse are just the first Axient-certified hire company in the UK to receive their stock,' says Tolenen. 'The announcement of others is imminent.'
More: www.warehousesound.co.uk
More: www.shuredistribution.co.uk