Concert recordings from the recent Liszt Festival and live broadcasts from the matinee in Bad Tatzmannsdorf and from the Easter Liturgy in Neudörfl in Austria, saw the first use of ORF's new HÜ-8D OB van.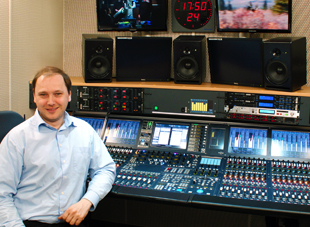 The eighth digital OB van in the Austrian National Broadcaster's arsenal, the HÜ-8D truck boasts advanced design and digital operation, allowing it to meet wide ranging programme requirements and music recordings – recordings of classical concerts at open-air events and in concert halls for CD productions or for broadcasts of classical music.
At the centre of the the truck is a Lawo mc²66 digital broadcast console with 40 faders (16:8:16) and 144 DSP channels. Both the router with a capacity of 8,000 x 8,000 crosspoints and the Lawo stageboxes with 28 mic/line inputs have full redundancy using Madi. The system design also allows the Riedel intercom to be displayed through the stageboxes using BNC In and Out, and two 64-track recorders are connected directly to the Lawo HD-Core via Madi.
System Engineer & Project Manager Reinhard Tomek explains that ORF decided to implement a consistent operating concept for all TV and radio OB vans. This allows sound engineers and Tonmeisters to transfer between different OB vans and start productions without taking time out to familiarise themselves with equipment. Additionally, with Lawo consoles installed in almost all OB vans and production control rooms, productions can be transferred between control rooms. 'The workflows are kept consistent, and we are able to adapt to any changes quickly thanks to the configurability of the consoles,' Tomek says.
With a view to constantly increasing efficiency, this OB van allows productions to be handled with a minimum crew. All signals required by a production (mic/line-In, audio returns, intercom, and signalling) can be combined into a single fibre-optic connection, avoiding complex cabling and reducing set-up times. Repeat broadcast formats can be superimposed onto existing console programming, again saving valuable preparation time. 'For a broadcaster like ORF, availability and reliability of the equipment are of utmost importance,' Tomek says. 'As our partner, Lawo provides products that excel in terms of quality and that are backed by a very competent and quick customer service to help us with any problems we might encounter.'
More: www.lawo.de