One of the Philippines' top audio contractors, Soundcheck has upgraded its JBL VerTec to v5 tuning presets – and says its clients are hearing the improvement.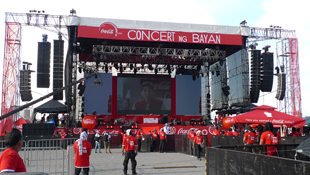 The company has used VerTec arrays since their introduction, in situations from indoor corporate events to outdoor shows for major touring acts. 'We installed the v5 DSP presets in all of the VT4888 and VT4888DP line arrays in our inventory, in the speakers' DrivePack DPDA input modules,' says Jaime Godinez, owner and chief engineer of Soundcheck. 'After installing the upgrade and testing (running pre-recorded music for hours), we sent them out for a major local show. It went without a hitch – and we have since done more than 60 shows since, including open-air concerts.
'When JBL introduced the v4 presets a few years ago I felt that they had given new life to the VerTec system. But the improvement offered by the V5 is even more significant,' he continues. 'The improvement in clarity, balance and coverage have made me fall in love with our audio systems all over again. But most importantly, my clients are noticing the difference between our sound and that of the competition.
'Last March I was mixing the Coca-Cola Concert ng Bayan at the SM Mall of Asia, which celebrated 100 years of Coca-Cola in the Philippines. The concert featured around 20 performers and I brought 32 VerTec VT4888s for the main front of house. The sound was so transparent and "in your face" that many times during the night I had to double-check to see whether my near-field monitors were off or on, as the sound from the VerTec arrays seemed to be coming from that close.'
'Another big benefit we found is that using the V5 presets enables us to set the systems up faster,' Godinez adds.
In addition to their compatibility with VerTec DrivePack DPDA input modules, v5 preset tunings are available for Crown VRack amplifier packages, JBL HiQnet Performance Manager and Harman HiQnet System Architect v3.0 software and the Powered by Crown system control app.
More: www.jblpro.com