The BBC has expanded its audio editing capacity with 250 new Sadie systems, to be 'strategically located' in the radio studios around the UK.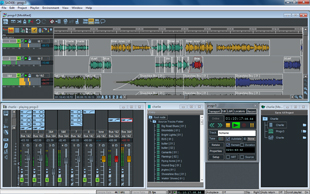 Following a comprehensive review of available systems, the BBC selected Sadie as its Craft Editor for its radio production and playout automation. This decision helped the broadcaster to streamline the range of tools that it supports internally for its radio programme makers. As a result, it installed 50 Sadie 6 systems at BBC North in Salford, which have now been joined by a further 250.
The Craft Editor specification dictated a number of feature enhancements for the new Sadie 6 software, including the integration of a comprehensive signal processing plug-in package. This has been met with the iZotope plug-in pack for Sadie 6. In addition, Prism Sound has developed a USB interface for Sadie 6 that supports the broadcaster's 200-plus Sadie hardware controller. This enables re-use rather than replacement of the controllers.
The Corporation already has many hundreds of Sadie installations, with Sadie 6 software primarily being used as a software-only application on the broadcaster's desktops – although it can also be installed on existing Sadie 5 hardware as an upgrade.
'We are delighted that the BBC is making Sadie 6 available to many more of its radio production employees, and we feel confident that they will appreciate the benefits that Sadie 6 brings,' says Prism Sound Sales Director, Graham Boswell.'
More: www.sadie.com