The investiture of French President Francois Hollande on 15 May saw the official handover of power from Nicholas Sarkozy at the presidential palace of the Elysée. Following the formally swearing-in of the new head of state. M Hollande made his way to the Hôtel de Ville city hall, the seat of the Mairie of Paris for his first official state visit.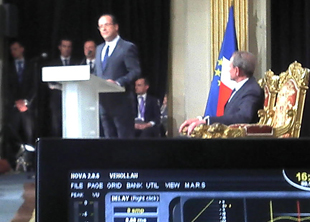 At the heart of all the audio management and distribution for the event was the Innovason Eclipse digital mixing console, purchased by the Mairie of Paris for just such an occasion.
M Hollande was received by the mayor of Paris, Bertrand Delanoë, in front of the Hôtel de Ville where they were greeted by thousands of well-wishers. From there, the new President and the Mayor went inside to the Salle des Fetes, where M. Hollande was introduced to all of the elected officials, ambassadors, corporate representatives and parliamentarians of Paris. M Delanoë then made a speech of welcome, to which the new President replied.
The Eclipse handled sound for the speeches in the Salle des Fetes, which was broadcast outside the building for the spectators, with clean feeds distributed to 52 different media organisations for broadcast to radio and television around the world.
'The desk performed absolutely perfectly and the sound was impeccable,' says Technical Director for the Hôtel de Ville, Dominique Dunesme. 'I was convinced that I'd made a good choice with the console, and the events we have handled to date have proved it. This, however, was by far the most important, but as usual, the Eclipse proved its calibre – easy to configure, easy to operate, easy to network and flawless results every time. What more could you want?'
More: www.innovason.com