Leading TV postproduction house The Farm Group is now home to the UK's largest installation of Avid Pro Tools HDX and Pro Tools 10 HD software.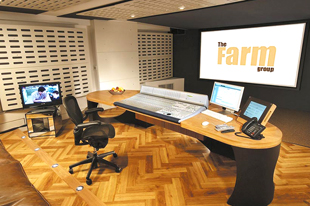 Installed by Scrub (HHB Communications' Soho-based postproduction office), the system comprises 12 HDX systems across three of The Farm's Soho post facilities, bringing increased workflow and enhanced mixing capabilities. The Farm's dubbing mixers are also enjoying the new Avid Channel Strip plug-in included with Pro Tools 10, featuring the EQ, dynamics, filter and gain algorithms found in the Euphonix System 5 console, and mono to 7.1 surround mixes.
Scrub worked with The Farm's Technical team to deliver and complete all upgrades during the facilities only scheduling break – a small window between the completion of The X-Factor and Britain's Got Talent during March 2012.
'Our daily workflow has benefitted greatly from the significant new features and speed of the new Pro Tools HDX systems,' The Farm's Anthony Kirkland reports. 'There was a very tight turn around for this upgrade and Scrub worked with us to ensure we had a seamless transition. We have been working with Scrub for many years now and the delivery of this project is an example of the high level of support that we have grown to regard as standard procedure from Scrub.'
'We have worked closely with their exceptional technical and operational staff since Scrub opened its doors eight years ago,' adds Scrub Sales Manager, Tina Wallace. 'For the past six months we have been carefully planning the delivery and installation of these systems, pre-approved and tested, into a small window of down time between two of the UK's highest rated primetime shows. It's a pleasure to have been involved and to continue to support The Farm as they set a new standard for audio post.'
More: www.hhb.co.uk