Shortly before she took to the pitch to sing to 90,000 football fans at the FA Cup Final, Chinese X Factor winner Mary-Jess Leaverland performed for VIPs and celebrities in Wembley Stadium's Bobby Moore Room.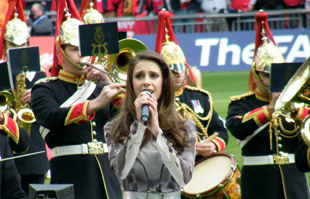 It was the traditional rendering of 'Abide With Me' for the crowd and her own material for the VIPs – but it was an AKG WMS 4500 wireless mic system for both.
The DMS 700 with AKG D5 vocal capsule handled her voice, while an AKG IVM 4500 provided in-ear monitoring. 'She loved using the new digital system,' says tour manager Cliff Whitehead, who supplied the mics and in-ear monitoring systems. 'In fact, everybody I spoke to backstage commented on how clear she sounded in comparison to other artists performing on the day. The DMS 700 blew other wireless systems being used out of the water – not only in the Stadium but in the TV transmission.'
With Mary-Jess performing out on the pitch, the sound was mixed from a control area a few rows up in the stand, which included a 4U rack of DMS transmitters, receivers and antenna distribution.
The systems were provided by Sobnd Technology.
More: www.akg.com
More: www.soundtech.co.uk