The first UK showing of the Clear-Com's HelixNet all-digital intercom platform is set for ABTT 2012 in London. The new system is among the latest additions to Orbital's portfolio, and will be shown alongside Yamaha's CL Series mixers d&b audiotechnik's V-Series loudspeakers, and the Shure Axient radio microphone system.
Based on Clear-Com's advanced I.V.Core Technology, HelixNet is designed to 'break down the conventional barriers between intercom technologies, combining exceptional audio quality and network flexibility with cabling simplicity and system intelligence'.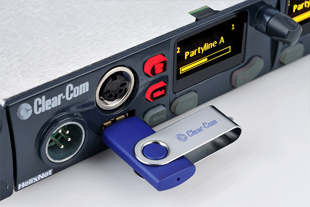 HelixNet represents a major advance for all intercom applications, as Orbital Sales Director Tom Byrne explains: 'Although we all use analogue wired communications on a day-to-day basis, we're finding that the demands for high-quality and more complex configurations are pushing standard analogue comms to their limits. Digital wired comms is without doubt the way forward, and Clear-Com's HelixNet system is the first digital wired comms system that can use existing or low budget wiring infrastructure. With HelixNet, we are seeing the introduction of a new generation of affordable, reliable, expandable and future proof comms systems.'
Clear-Com is distributed exclusively in the UK by Orbital, who specialise in sound and communication systems specialist for the theatre, event and broadcast markets.
The Yamaha CL Series will have a high profile at the show, with Orbital being one of the first UK companies to invest in the new line. Orbital announced its committment to the new mixers at their Frankfurt launch, building on its long-standing relationship with Yamaha's mixing technology. As an authorised d&b auditotechnik sales and installation partner, Orbital will also be highlighting the new V-Series, which has a stand-alone three-point flying system.
On the Shure radio microphone front, Orbital has added the Axient system to its portfolio, as well as being named as a Shure UK Axient programme partner. The Axient wireless management network provides a single platform that meets the RF transmission, reception and spectrum management requirements of mission-critical applications. The Orbital team is among the first to be certificated to support Axient in the UK.
More: www.orbitalsound.com
More: www.clearcom.com