Recovering from a fire in 2009, CCTV's new Beijing's headquarters will be ready in time to handle the Chinese coverage of the 2012 London Olympic Games.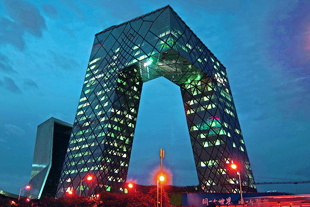 Located in the CBD of Beijing's Chaoyang District, the complex was designed by Dutch architect Rem Koolhaas – who is noted for his work with Prada and is responsible for the design of the Shenzhen Stock Exchange. With its 44-storey tower, 470,000-sq-m facility has 33 studios, and will accommodate 10,000 staff who will work in six 'functional zones'. CCTV expects to double its daily production to 200 hours of programming.
The opening of its new headquarters accompanies China's moves to extend its broadcast infrastructure to support internet distribution and mobile devices. Concurrently, Chinese companies are working with Pakistan Television Corporation (PTV) on its aim to move to digital broadcast by 2015.
State broadcaster PTV sought financial help from Chinese companies after the Planning and Development Division declined to approve the initial digitisation project, estimated at Rs2.5m.