The first Midas Pro6 mixing desk has been placed with to the country's leading rental company, Ardestani Brothers.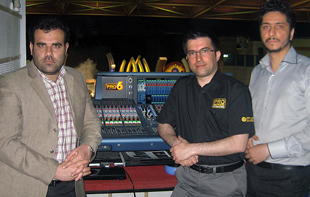 The digtal live console was supplied together with a Klark Teknik DN9696 high-definition audio recorder, by Midas' Iranian distributor, Ertebat Sedaye Bartar Co.
Company co-founder Hasan Ardestani is one of Iran's top FOH engineers, and the company provides sound systems for a wide variety of events, including concert tours by leading Iranian singers such as Mohammad Esfahani , Reza Sadeghi and Mohsen Yeganeh. The fist use of the Pro 6 was in one of Tehran's biggest and most challenging venues, Milad Hall, which is used for concerts, conventions and seminars. It has since been used with the Azerbaijan Symphony Orchestra and traditional Iranian singer Hesmedin Seraj concert in Milad Hall.
'The Pro6 sounds superb and no matter how hard you push the system, there will always be more head room,' says Ardestani. 'There is no compromise with this system, and you can really notice the superb quality and the difference it makes.'
The news follows that of two Midas Pro6 live audio systems being installed in one of the Middle East's premier casinos. Ardestani Brothers is now planning to add a number Midas Pro2 digital consoles to its inventory.
See also:
Middle East casino adds to Midas Pro6 count
More: http://ertebat-co.ir
More: www.midasconsoles.com