With a career spanning eight decades, Petula Clark has played her part in pop music, film and theatre since her debut on BBC radio during World War II. Dubbed the most commercially successful artist to ever come out of Britain, she has collected many accolades, including being inducted into the Grammy Hall of Fame.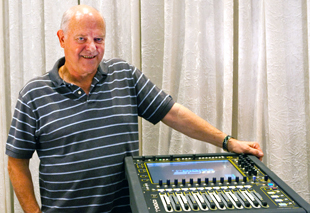 Her recent Australian tour comprised 17 shows with a five-piece band, and legendary Australian sound engineer Ernie Rose at FOH. Rose chose a DiGiCo SD11 for the tour, as he explains: It's amazing that this level of technology can fit into a portable package. I was carrying the SD11 around like luggage during the tour. Besides the fact it sounds great – which quite a few people were taken by – it's so compact, light, powerful and flexible.'
Rose was asked to manage monitors and front of house duties for the tour, and found the SD11 a good choice here too: 'The great advantage of doing FOH and monitors with the SD11 was the fact that during set-up, I could physically move the console from side of stage for monitors then to FOH for sound check. This meant most of the work was done before the show. It's really a bit of a modern miracle in that respect.
'After the first set-up, each new venue we went to just needed minor tweaks. The sound was also far more consistent than using the house gear at each venue which can vary quite a bit both in terms of usability and sound quality. Setup time after the first show was literally two minutes.'
A DiGiCo D-Rack also proved to be a worthy partner to the SD11 with Ernie finding its Ethernet connectivity was just as helpful as his ability to place the rack at the back of the stage: 'I just put the D-Rack on the centre of the stage and patched everything into that. It worked so well and it was really simple,' he says.
And when one of the towns lost power, the SD11 pleased both engineer and band with its recovery: 'At a show we did in Albany, Western Australia, the whole town had a power outage mid-show,' Rose recalls. 'It took 11s for the SD11 to start passing audio after the power resumed. Petula, the band and even the audience were very impressed – as was I.'
More: www.grouptechnologies.com.au
More: www.digico.org