The recent installation of an API 1608 at Studio Fort Music marks the tenth console to be sold into Argentina.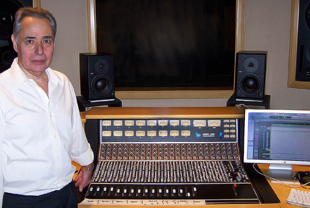 'API is the mixer brand that I learned to work with,' says Studio Fort Music manager Oscar Gimenez Plett. 'Once I tried the new 1608, I saw that it has the same audio dimension and quality as the API consoles had back in 1974, when I used them for recording Sandro's hits at CBS Records.'
Sold by SL Audio – API's sole distributor in Argentina – the console brings an analogue signal path to the studio's digital recording set-up. 'SL Audio continues to exceed our expectations in the Argentinian market,' says API MD, Gordon Smart. 'It's an honour to place a 1608 into such a prestigious facility as Studio Fort Music.'
Plett began his engineering career in the 1970s at Studio Discos CBS before moving on to Sandro's Studio, Studio Greengo, Ion Studios, Pulstar Studios, Digiart Studios and Del Absto al Pasto, finally landing at Fort Music. Over his career, he has worked with the likes of Sandro, Luis Alberto Spinetta, Arturo Sandoval, Vox Dei, Vivencia, Iva Znichi, Ricardo Fogli, María Marta Serra Lima, Leo Dan, Paz Martinez, Cuarteto de Guitarras Martinez Zarate, Hilda Herrera, Cacho Castaña and Valeria Linch.
More: www.apiaudio.com