The Station X exhibition offers an insight into Bletchley Park – the home of the British codebreakers who solved the Greman Enigma code of World War II.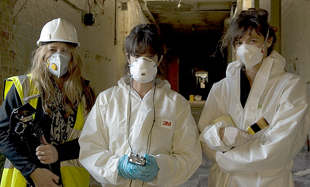 Now derelict, the huts that housed the codebraking are represented at the MK Gallery Project Space in Milton Keynes, where installation artist Maya Ramsay, photographer Rachael Marshall, filmmaker Luke Williams and sound artist Caroline Devine are presenting an aural history of what is arguably one of Britain's most important historical sites.
Devine and the other artists spent many months capturing the ambience and importance of the abandoned buildings, which are in a dangerous state of repair, in order to preserve visual and aural histories before they are lost as a result of planned renovation works. The exhibition calls on PMC's on-wall wafer2 speakers and compact DS001 amplifiers to deliver the audio.
The sound installation comprises recordings of the sounds made in and by the buildings, such as a creaking door at the end of a corridor or the fluttering of the wings of one of the many resident pigeons. The distant rumble of a train or a passing overhead aeroplane provided rhythms and resonances with which Devine could work to build up soundtracks using electronically manipulated recordings of the natural sounds together with 'hidden' electromagnetic signals from the electrical circuits and equipment present around the crumbling buildings.
Having experienced PMC loudspeakers at Sound Fjord, another prominent sound installation, and Rough Trade Records, Devine contacted the company to enquire about borrowing a set of speakers for the exhibition. PMC GM Ian Downs suggested a pair of the wafer2 speakers, as they are available with printable grilles that lend themselves to exhibition work.
Photographer Rachael Marshall was able to print two of the images she captured at Station X on to the speakers, and so as well as reproducing the sounds made by the feathered inhabitants of the buildings, the grilles will feature photographs of them.
'It is important that there is no weakness in the chain of audio reproduction when I am working with such delicate sounds,' Devine explains. 'It is the detail, clarity and fantastic range of the PMC wafer2s that make them perfect for this task. The fact that the grilles can be printed on means they are ideally suited to our exhibition which combines sound and image to capture the history of this landmark building. Putting sound into a gallery presents certain challenges as these spaces are not configured for acoustics and tend to colour and reflect the sound. Diffusion needs, therefore, to be of as high a quality as possible in order to work with these spaces and PMC's wafer2s provide me with the perfect solution.'
Bletchley Park was home to thousands of people who worked in secret during World War II and were subsequently sworn to secrecy for 30 years. The Station X exhibition explores the environment in which these people worked after two and half decades of neglect.
More: www.pmc-speakers.com
More: www.wafer-art.com