Part of a major update to its studio facilities in Pudong, the Shanghai Media Group has taken a Soundcraft Vi1 digital audio mixing console.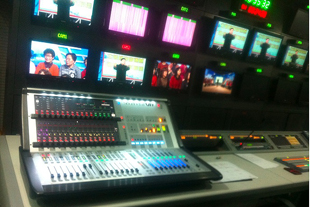 SMG is one of Soundcraft's longest-served customers. Before upgrading to the Vi1, the studio used a Soundcraft B400 analogue mixer. When the selection process for a new console began, the project team compared the Vi1 with several competitive models.
SMG highlighted several key factors regarding the Vi1 – the DSP processing technology resulting from of Soundcraft and Studer's history of console development; 40-bit floating point processing; the Vistonics interface that will allow the studio's different engineers easy familiarity of operatiion. As well as managing the desk's different functions, the Vistonics interface associates controls with different colours on the touchscreens and FaderGlow.
The Shanghai Oriental TV-owned broadcast facility uses the 400-sq-m studio for production of small-scale variety shows.
More: www.soundcraft.com