Looking to earn revenue from its educational facilities, one Australian primary school has built a new performing arts centre, equipped with a professional audiovisual system.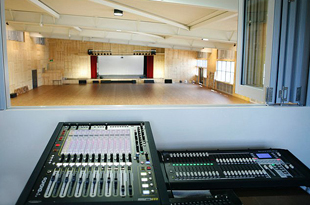 Designed, supplied and installed by Dominica Sound via DiGiCo's Australian distributor, Group Technologies, the install at Helensvale Primary, located on Queensland's Gold Coast includes a DiGiCo mixing desk – opening a new market for the UK-based console manufacturer.
'The school was previously hiring halls at its local arts centre for its events, but wanted to become self-contained in order to cut some of the operational overheads,' says Dominica Sound Director, Steve McCallum. 'At the sam time, it wanted to ensure that the space could accommodate a wide variety of events and be rented out to other schools – generating income while, at the same time, saving the other school's money.'
Measuring around 40m x 25m, with a stage at one end and elevated seating at the other, the 1,100-capacity venue is equipped with DiGiCo SD11 digital console. 'We went with DiGiCo because it turned out to be a higher quality and more cost-effective solution than anything else,' McCallum says. 'The sound quality of any other digital console wouldn't have been anywhere near as good as the SD11, so it was a simple choice.'
The mixing desk is easy to configure for non-technical users, such as teachers and student A/V operators from other schools. 'Helensvale holds a talent show at the end of every school day, McCallum adds. 'The SD11 is set up with every input on every layer so anybody can walk in, clearly see which fader belongs to which input and begin using the desk. The teachers have commented on how easy it is to use – they just turn it on, select the inputs and then control volume, it's that simple.
'Everyone loves the new system. One of the teachers has told me that they feel like they've won the lottery.'
More: www.grouptechnologies.com.au
More: www.digico.org