Australian distributor Group Technologies has extended its portfolio of commercial audio systems to 'fill common gaps in the current market' with the adoption of iTC Commercial Products.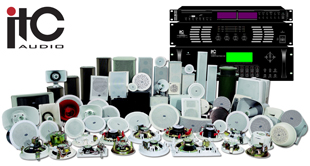 itC is a professional audio manufacturer with a focus on public address amplifiers, indoor and outdoor loudspeakers, and conference systems, as well as a broad selection of source units and IP-based digital audio networking innovations.
'The commercial audio industry is ever changing, constantly striving to meet the demands of tight budgets and aggressive deadlines,' says Group Technologies' Anthony Touma. 'With that in mind, the core principle behind itC is to offer competitively priced products that encompass the latest in technology. The itC range provides solutions to situations which previously required more complex configurations using several devices.'
Among the itC line, the T-6700 series of products is a cost-efficient system of network compatible components in a single system, while the T-67350 network amplifier is a 3U-high rack-mountable unit with built-in 350W power amplifier – using dual RJ45 connections, the T-it can be installed anywhere on an existing TCP/IP network making dedicated and/or additional control cables redundant. The unit is able to stream audio directly from the Internet, and multiple speakers are connected directly to the unit.
More: http://www.gtaust.com/brands/category/contractor/brand/88
More: www.grouptechnologies.com.au