Zdrojowy Teatr Animacji's modernisation began in 2008, intended to bring the the classically designed Spa Theatre into line with present technical standards.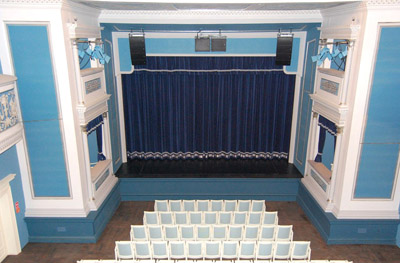 Polish entertainment technology specialists M Ostrowski was asked to supply and assemble a lighting, stage management and theatre audio system for an audience capacity of 200 to serve it's children's productions, adult plays and outdoor performances.
Recognising the need for top-performance sound reinforcement, the company looked to the latest Renkus-Heinz CF Series solutions, in order to to provide operational reliability along with dynamic performance and uniform sound distribution for the audience.
Using Ease 4.3 software to determine the optimum position of the loudspeakers, eight full-range Renkus-Heinz CF101LA speaker modules were arranged in two clusters either side of the stage, and two Renkus-Heinz CF15S subwoofer modules in a central cluster.
The use of active speaker modules with Rhaon (Renkus Heinz Audio Operations Network) technology, allows remote system configuration, adjustment of DSP signal corrections as well as monitoring of the state of the speakers.
In consideration of the surroundings, M Ostrowski engineers also designed a mounting for the line array hoists to ensure that the equipment blends in with the theatre's historical interiors.
The installation also included a Soundcraft Vi4 digital mixing console; a wireless microphone system based on 500 G3 Sennheiser units; a two-way wireless communication system based on solutions by 3M and a stage-manager system based on Riedel digital intercom solutions, as well as a wireless stage action confirmation system, which was developed specifically to accommodate the needs of the Spa Theatre.
Twenty facility panels around the stage, auditorium and audio control room provide 52 microphone inputs, 31 return lines, 17 speaker lines as well as a Cat5e network, for transmission of data, audio and video signals as well as control of devices connected to the internal network. The entire system is freely configurable at the patch panels, located within the main equipment rack. The installation also allows a show to be run from the audience, with a patch panel to plug in a console along with its peripherals.
'The new audio system's versatility and quality make it wonderful to work with and we're delighted that M.Ostrowski has created this solution,' says theatre' sound engineer, M Czechowicz.
More: www.renkus-heinz.com