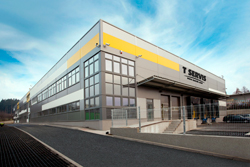 Czech rental company T Servis has extended its holding of L-Acoustics K1 WST line source enclosures.
With new stock supplied by local distributor Pro Music, the total of K1 enclosures now in T-Servis' rental inventory stands at 64 boxes.
The Prague-based company has also recently relocated to a new, 3,000-sq-m warehouse with a private rehearsal studio including four production offices, two dressing rooms with showers and its own cafeteria.
'T Servis required more K1 inventory to supply its growing international clientele throughout Central and Eastern Europe,' says company MD, Radim Janousek.
With more than 350 L-Acoustics boxes now in its inventory, T Servis is looking forward to a busy summer season, with tours including Sting and Metallica as well as popular open-air festivals such as Frequency and Nova Rock.
More: www.l-acoustics.com
More: www.tservis.com
More: www.promusic.cz