Marking the New Year for Indo-Iranian cultures, the Nowruz festival has its roots in ancient Iranian culture and is now celebrated around the world. The largest event in Europe recently took place in the Oberhausen Arena in Germany, which hosted its 15th Nowruz celebrations this year. The music line-up reflected the full spectrum of Persian music, from traditional folk music to pop and disco beats.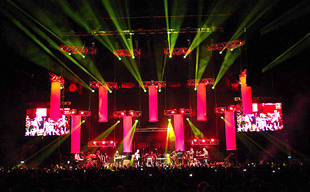 Bochum-based Soundart has been responsible for the technical side of this festival for several years. Preparation is always complex in terms of meeting artists' technical requirements – the final design involved a set-up in which the changeover time between bands (sometimes with dancers and an onstage pyrotechnics and laser show) was limited to five minutes, including reorganisation time.
Sometimes elaborate, the instrumentation of the bands used large numbers of acoustic string and percussion instruments, which added to the demads made on the PA system by the complex language used by this cultural group. All of the artists' technical stage directions asked for audio systems produced by recognised manufacturers. This meant that it was essential to involve all of the FOH technicians in the technical implementation of the system.
Part of the DAS Audio network in Germany and working closely with artists and technicians, Soundart used a DAS Audio Aero 50 line array system as well as Aero 12A powered line arrays and LX-218A powered subwoofers in the Oberhausen arena. These systems faced the endurance test presented by the Nowruz celebrations.
The PA system was designed by Lars Schnier, DAS Audio System Technician for Germany, who used 12 Aero 50 enclosures on each side for the main LR PA, paired with eight Aero 12A modules as out fill. The 24 subwoofers were set up as five end-fire arrays. The Aero 50 system was driven with 16 Lab.gruppen FP 10000Q amplifiers running under four LM26 Lake controllers. The signal distribution to all of the components and the EQ of the activesystems was with three DAS DSP-4080 processors (structurally identical to the XTA DP 448).
The result was a convincing PA concept, a sensibly implemented bass array design and the consistent, full-frequency coverage of the entire audience area. Previously critical guest technicians are reported to have been won over by its performance.
More: www.soundart.de
More: www.dasaudio.com
More: http://labgruppen.com
More: www.lakeprocessing.com