Now in its eleventh year, Orbital Sound's annual Easter Sound Fundamentals for Theatre training course has so far helped prepare more than 250 theatre sound and technical theatre students for careers in live entertainment.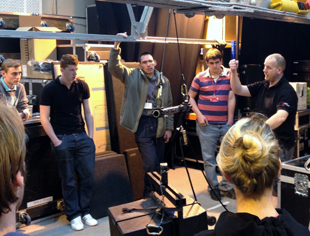 This year's course was fully subscribed, with more than 20 students taking part in its four-day programme – principally drawn from the UK's leading drama schools, as well as freelancers and the corporate sector.
Hosted at Orbital's purpose-built Brixton training facility, students were guided through the essentials of theatre sound by course leader Richard Carter, supported by Orbital Technical Director, Bill Addison.
'This course is very much about combining a solid grounding in theory with practical skills, aiming to cater for a varied mix of skill levels,' Carter explains. 'We focus on providing as much of the training as possible from the in-house team, with expert support from a number of manufacturers to give students access to the latest equipment. We also introduced a new module this year – on rigging, which proved to be very popular, and we had guest lectures from sound designers including the National Theatre's Rich Walsh and Rick Clarke. The feedback from the students has been very positive – with the emphasis on how much they got out of the course in just four days, and the inspiration and confidence gained as a result. This is perhaps the most rewarding aspect for everyone involved in the tuition, providing the motivation to train future generations of sound professionals.'
Orbital's team was further supported by presentations from d&b audiotechnik, Yamaha Commercial Audio, and for the first time, Shure provided students with the opportunity to use some of the latest audio equipment and gain hands-on experience. The week concluded with the chance to go backstage on two West End productions – Blood Brothers and Dreamboats and Petticoats - providing an in-depth insight into the real-world challenges of big modern musicals.
The annual Easter Sound Fundamentals for Theatre week forms a key component of Orbital's long-standing training programme, which is preparing a new course for later in 2012 – Mixing Musicals. Focusing on FOH mixing and the critical backstage roles of No 2 and No 3 operators in the sound department, the course is designed to help aspiring theatre sound operators hone their musical mixing skills. Taking place in late October, it will be taught by experienced operators using the latest 'big board' digital mixing technology.
More: www.orbitalsound.co.uk