EM Acoustics has supplied loudspeaker systems to console manufacturer Midas for the company's training room at its factory in Kidderminster.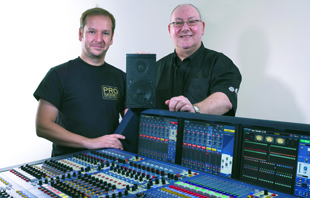 Midas had taken the decision in 2010 to upgrade the systems in the training room, but hadn't found any loudspeakers that met their requirements – until taking a closer look at the EM Acoustics range.
'The first point was that they had to be small,' explains Midas Technical Support Manager, Jason Kelly. 'This is partly because space is at a premium in the room and also because, with five sets of loudspeakers on at once during a training course, we still needed to be able to hear ourselves think.'
'The second criterion was that I wanted something that sounded full and rounded and that was able to reproduce the high resolution audio for which our consoles are famed. Previously we had used studio monitors for this type of application, as they sound great and offer all the detail. However, the problem is that they don't really sound like a PA, which is what most of our users work with every day. In short, I was looking for a balance of small size, great sound quality and PA sound. We looked at a number of speakers, but nothing really fitted the bill until I came across the EMS-51 from EM Acoustics, which was ideal.'
The installation comprises three pairs of EMS-51 compact full-range speakers, a pair of EMS-61 small-format, full-range speakers and an i-8 compact subwoofer.
'We wanted to add a larger speaker system that would be used in conjunction with the studio monitors that act as our main reference system in the training room,' Kelly continues. 'However, this time I was looking for a more "horn-loaded" PA sound to complement the very high resolution of the studio monitors we've used for years. The EMS-61 proved to be a great choice, along with an i-8 sub to give it that full, mini-PA sound we were searching for.'
Once Kelly had narrowed down the choices from EM Acoustics, Mike Wheeler and Dave Kelland from EM Acoustics visited Midas to perform a series of listening tests in front of Midas UK customer support manager Rob Hughes, a number of the R&D team, and Kelly himself.
'The EM speakers performed exactly as I'd hoped,' he reports. 'They delivered the great sound we needed to show our consoles at their best, with the added advantage of being a "neutral" brand that is unlikely to prejudice engineers one way or the other. We're delighted to have been able to work with another UK brand, and the support we've received from EM Acoustics has been exemplary.'
EM Acoustics operations director Mike Wheeler was equally upbeat: 'It's great to have had the opportunity to work with Midas, and the fact that they chose EM Acoustics is a huge accolade for us. Everyone in the professional audio industry knows that Midas is a by-word for sonic quality, so it is a huge honour for us that Midas is reliant on EM Acoustics to reproduce that legendary quality.'
More: www.emacoustics.co.uk
More: www.midasconsoles.com