Headquartered on the Cape Verde Island of Santiago, Marius Produções is the largest pro audio and lighting company serving the island group. Mario Bettencourt has been operating his rental company for the past 13 years, with Soundcraft desks an essential element. Recently, the company took two Vi6s from Portugal importer Tecnimusica, who provide the company with all the support necessary.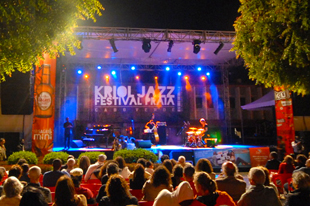 The island is home to a population of around 500,000, with events supported by Marius Produções taking place throughout the country. These include music festivals, concerts, live TV and radio music shows, theatre and dance – all expecting ever higher production values.
'As we are involved in practically all the big events that take place in Cape Verde, the need to make these fast stage changes and keep records of all the soundchecks in order to satisfy the artists' demands has become paramount,' Bettencourt says. 'We can be providing sound reinforcement for up to six bands a night in a festival situation, which is why I chose a sound desk that could enable me to fulfill this.'
He didn't rush into his purchasing decision: 'I spoke to some of my technician friends who had worked with different digital mixers,' he explains. 'Hardiness, versatility, size, weight, design, ease of use, and quality of the processors were all carefully considered. But the Vi6 is the reference mixer in various riders that I receive.'
Since the population of Cape Verde is made up of Creoles, the recent Kriol Festival, which marked the debut of the Vi6, saw a big turnout. 'By organising an event of this magnitude we can make our Festival a real reference for all Creole people,' Bettencourt says. 'With national music headed by Cesária Évora, along with the exposure we get to a lot of world music, Cape Verde is a real cultural melting pot.'
Before establishing Marius, Bettencourt had worked with a number of Soundcraft platforms, including the Series 5, Delta and Spirit. 'I always liked the sound and today own an MH3 and EFX 12, as well as the two new Vi6s,' he says. Marius also has various BSS, dbx and Lexicon processors in its inventory, as well as AKG microphones.
But it is the Vi6 that now takes pride of place: 'This all-in-one compact desk provides the easiest plug and play operation,' Bettencourt adds. 'It shows tremendous versatility when only one mixer is needed and the total recall feature is invaluable.'
Bettencourt said that his sound team loves the fact that it is an intuitive platform, offering a superb sound quality 'and anyone can quickly familiarise themselves with it,. Having an experienced system engineer as a close associate provides him with a ready Vi6 trainer and system babysitter.
The Vi6s can now expect to be pressed into ever more versatile service as they cover everything from conferences (where Marius also provide simultaneous translations) to church weddings and installations.
More: www.tecnimusica.pt
More: www.soundcraft.com