Bangalore's Amanora Park Town recently saw the second installment of this year's Eristoff Invasion Festival.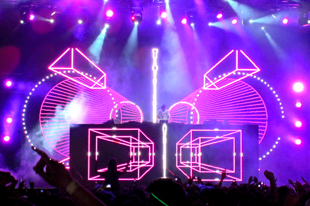 Heading the event was one the world's foremost DJs, David Guetta, who had the festival's capacity crowd moving to pulsating sounds projected from an impressive sound reinforcement system comprised of DAS Audio loudspeakers.
Sound & Light Professionals (SNL Pro) of Mumbai provided the sound system, following consultation with festival organiser, Only Much Louder, in partnership with UKNY Music (a leading UK-based music and events company). Together, they settled on DAS Audio Aero 50 large-format line array boxes, Aero 218 Sub enclosures, along with Aero 12A active mid-high line array elements. DAS Audio Systems Engineer Ron Koh served as project consultant and helped coordinate the logistics of the sound system along with the core crew of SNL Pro.
The set-up for the house mains comprised 24 Aero 50 enclosures – flown 12 elements per cluster for the left/right sides. Twelve Lab.gruppen PLM-10000Q power amps – operating at 4Ω per channel, with two Aero 50 enclosures per amplifier – drove the loudspeakers. An additional three DAS Audio Aero 12A powered line array elements were groundstacked up front. These loudspeakers served in a front fill capacity to ensure audience members up close to the stage received proper coverage.
Low-frequency support was provided by 28 Aero 218 Sub enclosures. These high performance subwoofers employ a front-loaded, bass-reflex configuration that houses two 18-inch low-frequency transducers. These sub bass enclosures were ground stacked – 14 cabinets per side. The subwoofers were driven by seven Lab.gruppen PLM-10000Q power amplifiers.
In addition to the primary sound system, an additional 12 Aero 50 line array elements were configured as a delay system, with six Aero 50 loudspeakers in left and right clusters. As with the main system, Lab.gruppen PLM-10000Q power amps – operating at 4Ω/channel with two enclosures per amplifier – provided plenty of drive.
Hassane Es Siahi, an audio engineer with Adlib Sound, Light, and Visual Solutions of Liverpool, England, served as the FOH system operator for David Guetta. Manning a Digidesign Venue SC48 mixing console, Siahi reports that the system provided coverage throughout the 80m length of the audience area. The sound pressure level at FOH (35m from the stage) was reported at 108dB(A) Peak. 'This is the best DAS System I have heard,' Siahi reports.
'We received countless compliments on the sound system's performance,' adds Kamesh Patel, system engineer at SNL Pro. 'In addition to many positive comments from audience members, the show's organizers were equally pleased. The DAS Audio loudspeaker setup performed flawlessly and provided clear, consistent coverage throughout the entire audience area.'
'We couldn't be happier with the results, as we have already been booked for a few more upcoming electronics dance music festivals such as the three-day Sunburn Summer Festival in Mumbai,' says SNL Pro Director, Manish Mavani.
More: www.snlpro.com
More: www.adlibsolutions.co.uk
More: www.dasaudio.com
More: http://labgruppen.com