Meyer Sound and Pro Audio Systems (PAS) jointly presented the European debut of the Quick System Setup And Alignment seminar at the Alhambra theatre in Bradford recently.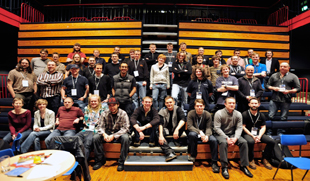 Presented by Miguel Lourtie of Meyer Sound with technical support from Pro Audio Systems, the event was attended by around 40 delegates from many backgrounds, all of whom took part in a 'very interactive event'.
Calling on a Meyer Sound Mina system with 500-HP subwoofers plus Mapp Online and various other Meyer Sound, Midas and Sennheiser equipment from Pro Audio System's inventory, the seminar is designed to highlight the key fundamentals of modern sound system applications. With this aim, it focused on practical solutions for optimising audio as well as providing a refresher course in some key principles of acoustics and applicable physics.
Positive feedback from the delegates was immediate and plentiful, the most common comment referring to the opportunity to acquire and then apply practical knowledge in a real-world environment.
ʻEvents like this are what set Meyer Sound apart,' says Pro Audio Systems MD, Brian Lumb. 'Their investment in education is a huge part of their success and for us to partner with them in presenting events like this is really exciting and worthwhile for us and our business. We will certainly be extending our educational partnership with Meyer Sound in future'.
ʻIt was a pleasure and delight to find such a professional set-up and a huge crowd,' says Miguel Lourtie. 'I'm looking forward to doing another seminar with Pro Audio Systems soon.'
More: www.proaudiosystems.eu