Toronto's newest premiere recording venue, Noble Street Studios has added a Royer Labs SF-24V stereo valve ribbon microphone and two R-122 active ribbon microphones to its mic locker.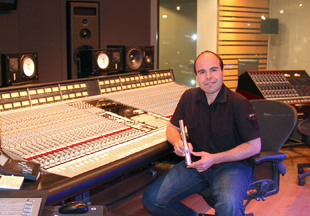 In addition to coordinating bookings and managing the facility's personnel, Studio Manager Donny Da Silva is actively engaged in equipment procurement: 'In recent months, Noble Street Studios has handled album projects for two well-known Canadian bands, The Tragically Hip and Billy Talent, as well as having recorded the orchestral soundtrack for the new four-part TV miniseries Titanic on the Global network,' he says. 'For these and other projects, it was critical to have the best microphones and, in all cases, we were getting requests for Royer Labs. We already had a pair of R-121 studio ribbon mics, and the addition of the SF-24V and the R-122s really helped us to meet these requests.'
According to Da Silva, the combination of the SF-24V, R-121s and R-122s is making a significant impact at the studios: 'We've been using the SF-24V for room sound, or ambience, as well as for piano and drum overheads,' he reports. 'This mic is very quiet and does a phenomenal job of delivering the level we want without inducing any noise. We've also used the mic over string sections. In all cases, I'm getting glowing reports on the warmth and fullness this microphone brings to the recordings.
'I regularly hear our engineers and the musicians talk about the incredibly high SPL capabilities of the R-121 and R-122,' he continues. 'Both mic models are routinely used on guitar cabinets. In a recent session, one of the guitar cabinets had eight 12-inch loudspeakers. The R-122 that was used to capture the sound performed incredibly well and delivered the even, full-bodied sound everyone was expecting to hear. A lot of microphones simply wouldn't be able to handle that much volume, but the R-122s and, for that matter, the R-121s, do this without the slightest hiccup. We've also used the R-122 on piano and the mic has worked really well.
More: www.noblestreetstudios.com
More: www.royerlabs.com