The latest location to find itself availed of DiGiCo's international education effors is Russia, with a first seminar held at the recording and performance studios of the famous artist Igor Sandler by Russian distributor, Aris Pro.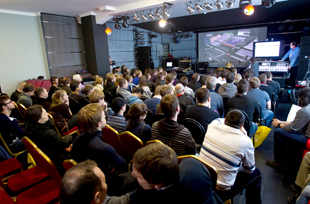 For the event, Ian Staddon (DiGiCo VP of Sales) was joined by respected engineer Dave Bracey, known for his work as FOH engineer with the likes of Robbie Williams, Massive Attack and Bjork, with whom he is currently touring.
The evening prior to the seminar saw Staddon and Bracey interviewed live on Igor Sandler's late-night rock radio show, which – according to the network – had 1.4m Muscovite's watching the live web feed.
On the day, the pair presented a mixture of technical theory and practice, with seminars covering the DiGiCo range, from the flagship SD7 to UB Madi, the latest offering from the company's Solutions division. The sessions were rounded off with a Mixing Master Class from Bracey, where he demonstrated why the SD7 console, emphasising the use and value of features such as snapshots when using digital consoles.
As a finalé, all attendees were treated to an evening of food, drink and a live performance by an AC/DC cover band mixed on the SD7.
'The seminar was well organised, and I had a lot of time to discuss my questions with the DiGiCo and Waves specialists,' says Alexander Odelevsky, Head of the Sound Reinforcement department
at The Moscow International House of Music. 'We were able to fully explore the consoles. For new users, it was a great experience to be able to study on DiGiCo consoles, and a great opportunity to address a few challenges and discuss some deep hardware and software nuances for pro sound engineers like me, who are experienced in DiGiCo consoles. Thanks to the DiGiCo/Waves Audio/Aris Pro teams for a great event.'
'Everybody really liked the seminar,' adds Yaroslav Udovik, MD of Aris Pro. 'We plan to do more, as we have identified a need to provide more information to the end users in the Russian market.'
'It's fantastic to be able to support exciting markets in this way,' adds Staddon. 'The feedback we've had from the attendees was extremely encouraging and we're looking forward to a return visit in the near future.'
More: www.digico.org
More: www.arispro.ru