Vienna's Burgtheater has adopted DPA d:fine headsets for use on its Debating Europe discussion panel, where top politicians and experts discuss the future of Europe.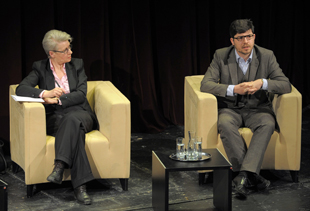 'There were certain things which were not perfect when working with our older headsets,' reports David Muellner, head of the Burgtheater's sound department. 'The sound was good, but often the width of an actor's or politician's neck varied, so we had to adjust the headband mount, which took time and effort – something you don't have when the prime minister is standing in front of you.
'Often politicians would say, "Please, none of these big ugly headsets, I'd prefer to speak with a lapel mic". I've reassured them that we now have a different kind of headset, which can be mounted to be almost invisible.'
The theatre has added five d:fine omnidirectional headsets to its inventory of more than 70 DPA microphones.
'We achieved excellent results using our new d:fine headsets for the latest discussion panel, and also had very positive feedback from the people wearing them,' says Muellner.
'Now we don't need to worry about people of different sizes, or self-noise such as ladies wearing earrings which can knock against the head mount; all these small but incredibly important details are the reason why the new d:fines are a real breakthrough! The d:fines are also so lightweight that even very sceptical actors forget that they are wearing a headset mic.'
The Burgtheater comprises three separate auditoria – the 1,200-capacity Burgtheater itself, the 400-seat Akademietheater and the 350-seat Kasino. There is also a fourth stage, the Vestibuel, which can seat 65. Performances are staged almost every day in every theatre, totalling around 700 performances per year.
The theatre also has six DPA 4088s and eight DPA 4066 headsets, which make an appearance in every production that uses wireless mics, especially for speech and singing. Around 50 DPA 4061 miniatures are used extensively with the venue's wireless systems, while its DPA 4099V and 4099P instrument clip mics for violin and piano are used for musical productions.
The d:fines were purchased from DPA's Austrian distributor, Studer Austria.
More: www.dpamicrophones.com