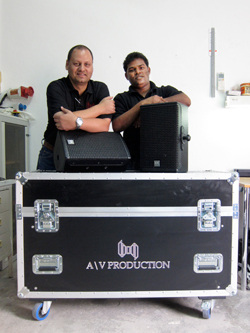 Melody House has supplied Oman-based rental firm BIG Rentals with a number of ConTour 108 loudspeaker sysems from HK Audio. The investments follows BIG's purchase of an HK Audio Elements loudspeaker system in 2011.
'In terms of compact 8-inch cabinets, the CT108 from HK Audio is fast becoming the industry standard in the Middle East,' says Amrith Verghese, HK Audio Product Specialist at Melody House. 'The reason for this is their capability to easily deliver great audio quality at high levels with a very small footprint.'
The CT 108 is an extremely compact, passive full-range PA loudspeaker, featuring a dual-purpose housing that allow use as an FOH or delay speaker as well as a stage monitor. It is engineered for accurate rendering the human voice and acoustic instruments, and offers high intelligibility and phase linearity, and wide dynamic range.
The Business International Group (BIG) was established in 1978 and grew into one of Oman's leading multi-sector organisations; it has been part of the Zubair Group since 1991. The rental department has grown rapidly in the past few years procuring equipment to enhance its offerings to its clients in the Sultanate.
See also:
BIG Middle East investment in HK Audio Elements
More: www.melodyhouse.ae