UK-wide distributor Impact has announced an exclusive UK distribution deal with loudspeaker manufacturer Ohm, in tandem with the launch of a new speaker range developed jointly by both companies – Jet by Ohm.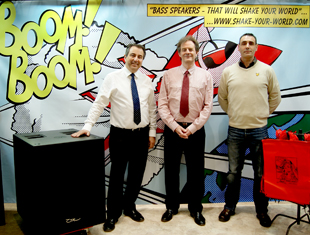 Impact and Ohm claim shared values, including audio quality and a drive for high-level customer service. Impact, which has announced the opening of six new branches across the UK, can arrange auditions of the entire Ohm range for trade customers anywhere in the country. 'We had been looking for a very special distributor to spearhead our UK sales activities for some time,' says Ohm GM, John Oakley. 'Impact has great people with remarkable marketing skills, a great branch network and exemplary logistics. The Jet by Ohm range perfectly complements the other great Ohm products, all of which can be auditioned in Impact's superb demonstration facilities.'
'As one of the UK's leading trade distributors, Impact has been looking to partner a high-end audio brand that will allow us to really add value,' says Impact MD, Grant Lester. 'We already provide a quality service on behalf of the leading players, but we don't often get the chance to develop products with them. The partnership with Ohm not only gives us exclusive UK distribution rights for the Ohm product line, it has also allowed us to develop a new speaker range for our UK customers. The Jet by Ohm products have the best of both worlds – superb audio performance from the Ohm R&D team combined with market-led product design and pricing from Impact.'
The Jet by Ohm range comprises three top boxes to provide high and mid audio reinforcement. These can be used alone or in conjunction with bass and subwoofers from the range. The Jet-T10 features a 10-inch woofer and 1-inch high-frequency compression driver; the Jet-T12 has a 12-inch woofer and 1.5-inch high-frequency driver; and the Jet-T15 has a 1.5-inch high-frequency compression driver and optimised 15-inch bass driver.
Three bass cabinets range from the entry-level Jet-B15 (15-inch driver) mounted in a Jet Salt (Symmetrical Air Load Technology) enclosure, through the Jet-B18 (18-inch driver with 4-inch voice coil) and Jet-B218, which uses Zero Acoustic Technology to prevent unwanted resonances from cabinet walls.
The Jet by Ohm range is completed by three subwoofers that have specially designed baffles and low-frequency driver placement to maximise the LF performance and minimise distortion. The Jet-Sub212 has two 12-inch drivers covering 42Hz to 85Hz; the Jet-Sub215 has two 15-inch drivers covering 38Hz to 114Hz and the largest of the three, the Jet-Sub218 3kW cabinets with two 18-inch drivers covering 26Hz to 115Hz.
More: www.impact-products.co.uk
More: www.ohm.co.uk