ALC NetworX and the Telos Alliance have struck a partnership over Ravenna IP-based media networking technology.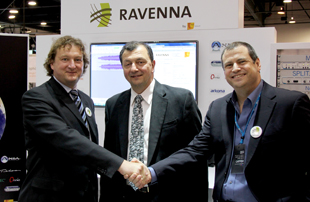 Combining Telos' long-standing experience – more than 25,000 Axia Livewire devices in over 3000 installations – with Ravenna's open technology approach to latest industry standards, Axia's new xNode IP-Audio Interfaces will support all fundamental operation principles of Ravenna, and are capable of interacting with Ravenna-enabled devices. Specifically, IEEE 1588-2008 has been chosen as the primary synchronization standard for the new xNodes, allowing fully synchronised stream operation as defined within Ravenna.
By implementing the newly defined Ravenna Interoperability Profile, Ravenna nodes can interchange streams with Livewire legacy nodes, based on their current capabilities. As a result, new Ravenna-enabled products can be added to a large number of existing Livewire installations. These installations can continue to operate in Livewire legacy mode, but also connect with fully operational Ravenna islands with selected stream interchange between legacy Livewire and Ravenna nodes. This offers a smooth migration path from existing legacy Livewire installations to full-blown Ravenna set-ups.
'Ever since we launched Livewire in 2003 as the first IP audio protocol for broadcasting, we've been dreaming of the day when every piece of broadcast equipment is connected to the network,' says Michael 'Catfish' Dosch, President of Axia Audio. 'With 34 Livewire partners and 14 Ravenna partners already onboard, broadcasters will benefit immediately from a dramatically expanded universe of nearly 70 networked pro audio products that can work together. And even more partners and products will become available over time.
'After nearly a year of Axia and Ravenna developers working together, the broadcast world is now one giant step closer to that networked vision becoming reality.'
'With its Livewire system being introduced in 2004, Axia has proven the capability of an IP-based solution to fulfill the demanding requirements of real-time media distribution within radio broadcasting facilities,' adds Philipp Lawo, CEO of ALC NetworX. 'With its introduction in 2010, Ravenna could leverage the latest technology and IT standards achievements to significantly increase the capabilities and performance of an IP-based media distribution technology, providing for stretching its application to even more demanding use cases in the field of Professional Broadcasting. Combining Axia's experience with the latest breed of technology from Ravenna will result in a solution that will serve the highest demands of a wide range of today's and tomorrow's broadcasting applications.'