AC Entertainment Technologies (AC-ET) Ltd's Audio division is one of the first UK Yamaha dealers to take stock of the new CL series live digital mixing console.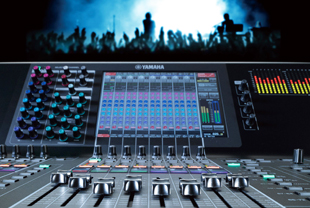 Launched at Pro Light & Sound 2012, the three model in Yamaha's new line retain features and functionality established over 25 years of digital desk development.
The line-up comprises three consoles, the CL1, CL3 and CL5, ranging in scale from 48 to 72 mono + eight stereo inputs. All feature 16 DCAs and 24 mix/eight matrix output buses. Calling on the Centralogic interface, the CL desks incorporate multiple innovations and refinements, including enhanced Select Channel functions and User Defined knobs. EQ and effects have been vastly expanded for the CL Series, and include an Effect Rack with VCM analogue circuitry modelling technology, as well as a Premium Rack that includes the Rupert Neve Designs Portico 5033 equaliser and Portico 5043 compressor/limiter, that have been developed by Yamaha in close cooperation with Rupert Neve himself.
Two new rack-mountable I/O units, Rio3224-D and Rio1608-D, can be used in a variety of combinations and configurations, communicating via a scalable Audinate Dante digital audio network. Up to eight I/O rack units can be connected to a CL series console, while multiple CL series consoles can share control of the same I/O rack unit. A new Gain Compensation function adds the ability to combine FOH and monitor control via a single network, for comprehensive digital live sound integration.
For live multitrack recording and virtual sound checking, CL consoles are equipped with dedicated recording control capabilities for use with Steinberg's Nuendo Live DAW application running on a Windows or Mac computer.
'We're delighted to be able to help introduce this latest in a long line of innovative consoles from Yamaha,' AC Audio Sales Manager, Peter Butler, comments. 'In recent years Yamaha have, and continue to, play a major part in shaping the digital console market.'
See also:
Yamaha CL series live consoles
More: www.ac-et.com