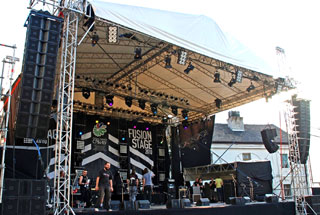 One of Europe's largest summer music gatherings, the Exit Festival was held in Novi Sad, Serbia, in early July, 165,000 music fans from around the world.
Held in an historic Petrovaradin fortress near the Danube River, the four-day event saw Studio Berar support three of its largest stages.
The Main Stage, Dance Arena, and Fusion Stage were equipped with 64 VerTec VT4889 full-size line array elements, 80 VT4888DP powered midsize line array loudspeakers with JBL DrivePack technology developed in coordination with Crown Audio, and a total of 100 VT4880 full-size arrayable subwoofers. The entire system was configured for remote control and monitoring with Harman's HiQnet System Architect software. 'I'm proud to say it's been 10 years now that Studio Berar has been the primary professional A/V rental supply company for the Exit Festival,' said Zoran Matic, Studio Berar's chief system engineer. 'Our VerTec line array systems, along with Crown amplification and the HiQnet system, have performed flawlessly year after year. Although the design and set-up of the main concert sound system is always challenging due to the unique landscape of the event site, the result this year has exhilarated the crowds of music lovers. Exit Festival 2010 is another highly successful project in our portfolio.'
In all, more than 500 artists performed on 20 different stages including Faith No More, Chemical Brothers, David Guetta, Missy Elliott, Placebo, Mika, LCD Sound system, Royksopp, Crystal Casteles, among many others.