HHB Communications has provided audio equipment for BSkyB's new multimillion pound production facility in West London.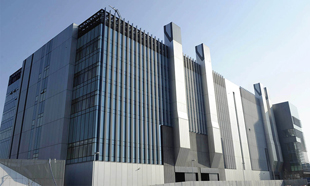 In addition to staging critical listening evaluations and ultimately supplying 370 Genelec monitors, HHB has also brought its expertise in broadcast audio production to bear on the production chain at the Sky Studios facility. Working alongside the Sky Engineering Team and Systems Integrators, HHB has supplied the 'audio glue' required by the facility's workflow.
Integrated multi-format 3G/HD-SDI video monitoring and audio de-embedding alongside loudness metering, Dolby and SMPTE2020 metadata analysis comes courtesy of 98 Wohler AMP2-16V-3G rackmounting devices, part of a total complement of more than 200 Wohler boxes employed within the building.
Consistent with BSkyB's commitment to HD and 3D pictures, coupled with surround sound and stereo compatible audio, the sound control rooms are equipped with 5.1 Dynaudio loudspeaker systems and include digital audio processing tools from Cedar, Dolby, Soundfield and TC Electronic.
'Martin O'Donnell and the team at HHB have over the years provided a service second to none,' says BSkyB Senior Manager of Audio, Vaughan Rogers, commenting on HHB's support of the broadcaster's 20-year history.
'HHB is far more than just a supplier,' he adds. 'After-sales service and support are equally important to us. If we have any problems, HHB has an expert who will have the answer to most of them.'
'Sky Studios is one of the most advanced TV production facilities in the world, and it's also one of the most sustainable, with energy conservation at the heart of its design,' O'Donnel replies. 'We're delighted to have played a role in such an ambitious and rewarding project.'
Sky Studios incorporates eight studios along with postproduction and transmission facilities for Sky's broadcast and sports news departments. Natural ventilation of the studios combines with innovative natural resource capture on site to create the most sustainable broadcast centre anywhere in the world.
More: www.hhb.co.uk