A testament to Steve Graham's commitment and drive, the Torrance Hotel is now a stylish and popular Scottish attraction that has revitalised the surrounding area of East Kilbride. Part of its success is the audio system designed by Bryce Keachie.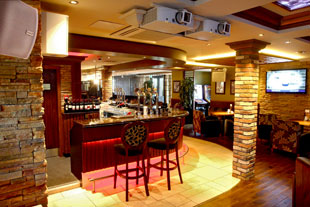 Part of a major restoration, Graham called in Keachie Electronics to specify and install a system that was both consistent and appropriate for all of the different areas – from discreet speakers in the sleek main dining area to something more powerful in the bar and conservatory. He turned to Tannoy…
'I have worked with Tannoy loudspeakers a lot in the past, so I knew that whatever solution I chose would be reliable and have that hallmark of quality,' Keachie says. 'Apart from that, the client was very happy to be using loudspeakers from a renowned manufacturer situated in Scotland, as Tannoy is.'
Because of the architecture and the standard of the restoration, Keachie had to opt for a mixture of in-ceiling and wall-mounted speakers for the areas where light background music would be required. In this case, it meant a mix of Tannoy's leading commercial install product ranges, DVS and CVS.
Its point-source driver design enables the DVS Series can be mounted vertically or horizontally without compromising the dispersion and coverage control, offering versatility in positioning, all of which gave Keachie more options when placing the units. For places where an in ceiling solution was required, he chose Tannoy's in-ceiling CVS Series, which was aesthetically suited and also offered particularly high quality audio within the space. In the end, it was DVS 4s and CVS 4s that fitted the space and the client's requirements for the main dining area, reception and the facilities areas.
For the Sports Bar and Conservatory Restaurant, where a little more volume and power was required to cope with a variety of different events that the Torrance holds, Keachie turned to Tannoy's new VXP Series, which feature Lab.gruppen's IDEEA (Intelli-Drive Energy Efficient Amplifier) power module. The self-powered loudspeakers build on the existing V Series range, but mark the first time that Tannoy and sister company Lab.gruppen have worked together on a product line.
A VXP 12 and VXP 8 were chosen for the Sports Bar, while a single VXP 8 was chosen for the Conservatory Restaurant. Both spaces were augmented with single Power VS15BP subwoofers, giving each venue the required power to cope with any eventuality.
'The [earlier] V Series was very popular among installers and their clients, and I'm glad to say that Tannoy has again delivered the goods with the VX and VXP Series,' Keachie says. The owners of the Torrance and delighted with both the look and power of their new system, and the quality of the sound is in keeping with the high standard of the surroundings.'
More: www.tannoy.com