Lab.gruppen and Lake have announced a training and certification programme – a modular course aimed at Freelance Engineers, Tour/Install System Designers, Theatre Sound Designers and Tour System Engineers and secheduled to begin in April 2012.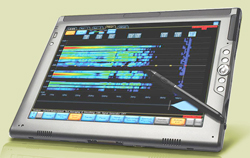 Taking place initially in the UK in conjunction with Adlib Solutions – with plans to expand the reach to other Lab.gruppen and Lake Centres of Excellence around the world – the programme is designed to introduce key aspects of Lab.gruppen and Lake technologies and develop users' familiarity with the companies' industry-leading tour sound hardware and software platforms.
The programme begins with the one-day introductory Level 1 Certification course, being held at Adlib's facility in Liverpool on 19 and 20 April. Participants will be introduced to the core essentials of Lake & Lab.gruppen technology as well as familiarisation with the hardware and Lake features.
'Lake Processing is already well established as the system processing environment of choice in the live sound arena and the recent product developments in the shape of the LM Series standalone processors and flagship PLM 20000Q platform have served to drive this uptake even further,' says Lab.gruppen/Lake UK Sales Manager, Simeon Ludwell. 'The introduction of these officially certified training courses will help to standardise and maintain a level of competency throughout the industry, building upon theLake training programmes carried out previously by Dolby.'
Delegates will participate in practical exercises running Lake Controller Software, gaining hands-on experience of programming Lake Processors for loudspeakers including correct settings for crossovers and LimiterMax/ISVPL for the protection of speaker components. The courses will also cover fundamentals of the Lake platform related to real-world applications to instroduce the Lake Processing environment and demonstrate how to get the best from Lake LM Series and Lab.gruppen PLM Series in the field.
Successful completion of the course will leave delegates fully certified to program and implement Lake Processing in mid and large-scale live sound systems and qualify admission to more advanced level courses to follow. Those interested in attending these training events should contact Adlib Solutions or their local Lab.gruppen and Lake direct sales channel.
Enrolment is subject to a fee of £100 (ex VAT) per person. Registration for the course on the 20 April (19 April is sold out) is through Simeon Ludwell.
Contact: This email address is being protected from spambots. You need JavaScript enabled to view it.