Solid State Logic has announced developments for its Nucleus DAW controller/audio hub, as well as the release of new dedicated Nucleus Profiles for Samplitude/Sequoia and Soundscape. SSL has also announced a new development relationship with game audio middleware developer Firelight Technologies.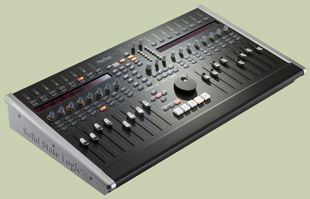 SSL has worked with Magix in the implementation of a dedicated profile for Samplitude/Sequoia to bring SSL's approach to hardware control to the workstation. The delivery of the new Console Control Manager in the release of Version 6.2 of SSL's own Soundscape DAW has enabled the implementation of a Nucleus profile for Soundscape that delivers tight hardware control integration. The Nucleus profile for Soundscape V6.2 will be available to coincide with the release of V6.2.
At the recent Game Developer Conference in San Francisco, Firelight Technologies announced the release of its games middleware audio software, FMOD Studio. FMOD Studio supersedes FMOD Designer as the next generation of games audio software. FMOD Studio introduces a 'pro audio' approach to game audio, including a comprehensive software mixer with hardware control surface support, a new multitrack editor and music system, a profiling and audio capture interface and a variety of multi-use collaboration interfaces. With an entirely new interface, FMOD Studio's features include the world's first live in-game audio composer allowing users to create, add, edit and mix audio content in real time. The software allows users to instantly preview results without going through the edit, rebuild and restart cycle. The immediacy of both creation and preview was designed to enhance creative input and give users an immediate sense of each effect from directly within the game environment.
SSL has been working closely with Firelight Technologies to bring the expertise behind its DAW control surfaces to the implementation of hardware control in this new approach to game audio production. To coincide with the forthcoming release of FMOD Studio, SSL will release a dedicated Nucleus Profile for the software.
FMOD Interactive Audio Middleware has been used in games series such as: World of Warcraft, Starcraft, and Guitar Hero as well as other hit titles such as Dragon Age and LA Noire.
'When we started on the world's first DAW for computer game audio creation, we wanted to include support for the most prominent hardware control surface platforms available.' says Brett Paterson, CEO Firelight Technologies. 'This is why we immediately contacted SSL. They gave us the support we needed to include amazing hardware control support for FMOD Studio, to control our multitrack editor, in-game profiler, and mixing interface. Now sound designers and musicians will be able to professionally edit and master their games in less time thanks to the shortcuts provided by products such as the Nucleus and others within SSL's line-up. We look forward to our users pushing audio to the next level with this natural marriage of hardware and software – a first for the games industry.'
More: www.solidstatelogic.com