When UK production company VME moves into its new 26,000-sq-ft facility at the end of April, pride of place in the warehouse will be given to its new Martin Audio MLA Multi-cellular loudspeaker array system.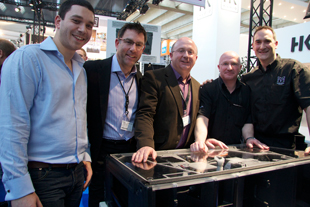 Offering a wide range of equipment and services to the entertainment, touring, corporate and broadcast industries, VME confirmed the purchase of a System 30 at the 2012 Pro Light & Sound Show in Frankfurt. Company directors Dion and Andre Davie were eager to add large-scale concert touring to a versatile work roster that already includes festivals and summer classical concerts in stately homes, as well as smaller scale touring.
Comprising 18 MLA full-range elements, two MLD Downfills and ten MLX subs, the new system will debut on 'high profile shows which are still under wraps but which will put us on the map,' promises Dion Davie.
VME saw the system at its launch in Frankfurt two years ago, and attended an 'invitation-only' seminar presented by Martin Audio Engineering Director, Jason Baird. Within six months it had risen to the top of their wanted list – although Dion admits to having reviewed a number of alternative systems along the way in their quest for the perfect large format array.
The clincher came at Battersea Power Station where VME trialled an MLA rig at the Freeze Festival. Since the event has a history of noise complaints, VME brought along Martyn 'Ferrit' Rowe, Martin Audio's technical training manager, to mitigate the noise damage by notching out unwanted areas of coverage to prevent spill.
'It did exactly what was promised,' declared Davie. 'The results were remarkable, the sound was excellent and the number of complaints dropped right off. We can now use this system as a sales tool when doing local government work – as sound containment is a hot issue.'
VME also attended the HMV Hammersmith Apollo launch of the MLA Compact to further investigate the platform, with a view to adding this at a later stage. 'We couldn't believe that so much sound was being produced from 12 Compact boxes a side,' they report.
Facing a growing workload, the MLA now joins VME's inventory of A/V equipment, generators, screens, lighting and ground support. For touring purposes, the service company also notes the truck pack advantages of a fully integrated system, along with the ease of flying and plug and play attributes.
'With MLA we are well set for the future,' says Dion. 'But this is just the beginning and we will be looking at the MLA Compact next.'
One of their first appointments when they move base to their new retreat will be three days of MLA induction training, provided by Martin Audio, in VME's new dedicated training room.
More: www.martin-audio.com