RG Jones Sound Engineering Ltd has become the first UK company to invest in Martin Audio's active Multi-cellular Loudspeaker Array (MLA).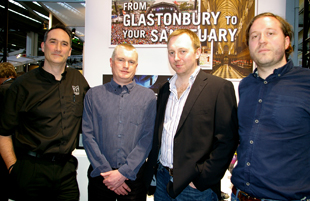 After trialling a system on selected events the rental company purchased a System 36, comprising 24 fully-integrated MLA top boxes and 12 MLX subs, with six dedicated amplifier and DSP channels per enclosure. The system will make its official operational debut on a series of high-profile shows at the end of April and beginning of May.
RG Jones joint MD John Carroll say the company had been looking for a large-format system and MLA came along at the right time: 'We felt committed to buying when we could see a demand for it over the first year.'
Championing the cause for RG Jones had been the company's experienced sound engineer Simon Honywill, who had put MLA through its paces on Jeff Wayne's Musical Version of War of the Worlds tour, Raymond Gubbay's Classical Spectacular and on shows with Katherine Jenkins in Ireland to evaluate its full dynamic range and consistent delivery to every seat in the house. MLA is again confirmed for the next War of the Worlds arena tour, starting in November 2012.
'We have been involved with Martin Audio for many years,' says RG Jones Project Manager, Steve Carr. 'MLA is one of the most exciting developments in a long time, so it's a great opportunity to broaden our client base With the systems that have already been sold to the US, it was inevitable that it would start to appear on riders.'
As a consolidated Martin Audio house, RG Jones' existing W8LC Compact Line Array will operate in harmony with MLA should delays or outfills be required on a large scale show.
'RG Jones has been one of our most loyal customers over the years, and our presence on the Pyramid stage at the Glastonbury Festival has been entirely due to them,' adds Martin Audio's Director of Sales, Simon Bull. 'We are delighted that they have made this investment and we will be looking to support them every step of the way.'
More: www.rgjones.co.uk
More: www.martin-audio.com